Look, we've all been there okay.
It was 11:53PM on New Year's Eve and in a blur of booze, peer pressure, and a fondness for poor decisions, you decided to announce, in a complete panic, your very thought out! Definitely pre-planned! Not at all made up on the spot! New Year's resolutions. To literally anyone who would listen!
So unsurprisingly, before midnight had even hit, you'd given up gluten, sugar, and promised to never smear Nutella between two pieces of toasted white bread ever again. And that's your favourite.
Now, with this in mind, it sounds like you need some proper New Year's resolutions in your life, and luckily, we're here to help.
TRY SOMETHING NEW ONCE A WEEK
Are you a human being? Yes? A real one?
Well, if that's true, and you're reading this in winter, it's safe to assume you've been eating tomato pasta every night for the past 48 days. (And yes, tortellini obviously counts).
So in 2018, it's time to mix it up a bit, by trying at least one new dish every single week.
Need some inspo to help you out? Well, start this week with something you've definitely never eaten before, our beautiful Smokin' Bacon… A burger with Wotsits on it! 'Cause why not?
BE MORE ACTIVE (ON INSTAGRAM)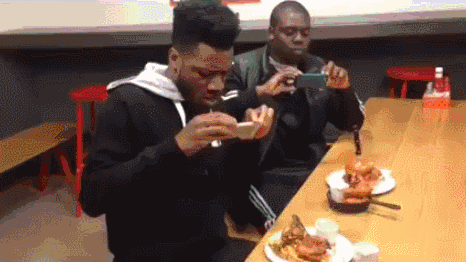 So, you know that one person you follow on Instagram (it's always only one person because any more than that is just too much), who posts a picture of literally everything they eat?
From caviar to pasta to their sloppy beans on toast, they're posting it with 74 hashtags and a caption that's some unrelated emoji. Guaranteed.
Well, this year, 2018, you're going to become that person.
Your challenge – should you choose to accept it – is to make everything you eat Instagram-worthy. Basically, if it won't get a solid 20 likes on the 'Gram even after slapping on the Clarendon filter, it's not worthy for your EXTRA AF taste buds.
CUT OUT CUTLERY COMPLETELY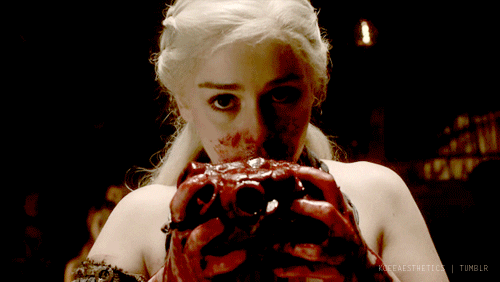 Put down your forks. Throw away your knives. Leave your spoons unwashed, covered in yoghurt. And burn any dictionaries that mention the horrors of a spork.
This is the year you finally abandon those pesky instruments and utilise the cutlery God gave you. Basically, if you can't eat without cutlery, you're not eating it.
We guess that leaves you with hot dogs, burgers, lasagne (optimistic), tagliatelle (more optimistic) and of course, everyone's favourite: pizza.
FINALLY COMMIT TO YOUR RELATIONSHIP WITH PIZZA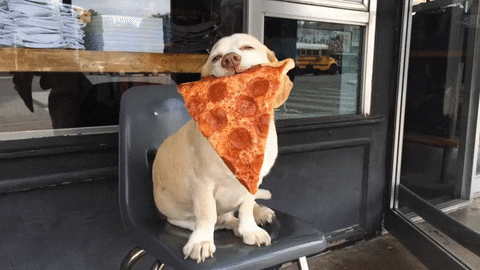 Reliable. Adventurous. Good at listening. Always there for you. At 2:30 in the morning when you've got sick in your hair. Even prepared to stay the night. Will still be there in the morning. Doesn't take long to heat up. Loves Netflix and chill. Has loads of cheesy jokes. Generally quite cheesy. 
Actually.
Made.
With.
Lovely.
Lovely.
Cheese.
Yep, finally settle down with your own true bae, and get ready for multiple (food) babies all throughout the year.
LITERALLY BECOME A PIECE OF CHEESE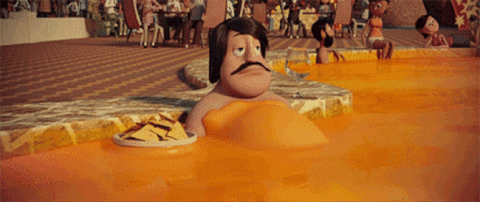 It's your final form. Your destiny. The one thing you could become that would mean you wouldn't be a complete disappoint to everyone around you.
Make 2018 the year where, against all the odds, you finally become a piece of cheese.
We haven't really thought far enough ahead in terms of how you'd achieve this resolution, but we recommend starting with devouring insane amounts of halloumi. Duh. That just seems obvious in our book.
And if you're after a ridiculous amount of halloumi, pizza, burgers, or anything for that matter?
We've always got you covered, but especially this January where we're giving you 50% OFF FOOD for the entire month when you book in advance. YES YES YES.
So don't bother with fancy foodie resolutions in 2018. Stick to some of our special resolutions, book now to stuff your face, and get ready to fall in love with our food menu.
Happy New Year everyone!