There's really no point beating around the bush when talking about 2017.
But we're going to anyway.
Some would say it's definitely lasted a whole year. Others would call it non-optimal. You may have even heard some rumours that 2017 has felt like being slowly lowered into a pit full of radioactive sludge.
Of course, we couldn't possibly comment on such rumours. Instead, we prefer to just constantly remind ourselves at-least-it's-been-a-bit-better-than-2016, thanks to all these incredible things that happened this year…
1. UNICORNS TOOK OVER THE WORLD
There's no doubt about it, this year we hit the tippy top of a vibrant, magical rainbow where Katy Perry songs play on repeat, clouds are made from dreams, and everything tastes like candy floss.
Yep. That's right. We hit the very peak of the unicorn trend in 2017.
From unicorn body glitter to unicorn bagels, pool floats, macarons, cheese toasties, sushi rolls, and even our very own Unicorn Frappé cocktail, these crazily colourful inventions gave us something to be joyful about this year.
2. TWITTER GAVE US 280 CHARACTERS
No more enforced grammar sins, no more abbreviations, and no more sacrificing that glorious Oxford comma. We're all for Twitter extending the character limit to 280 characters. Not only for the amazing tweets it creates, but 'cause it gives us much more space to properly discuss
Well, sh*t… Ran out of characters. Maybe up it to 420 characters next time, eh Twitter?
3. Beyoncé had twins
If you needed just one thing to help you through the radioactive sludge of this year, it was this.
Leaving us all completely SHOOK, Bey-Z announced the twins in true goddess fashion, and if we're honest, we don't think we'll ever be over it.
4. Blue Planet returned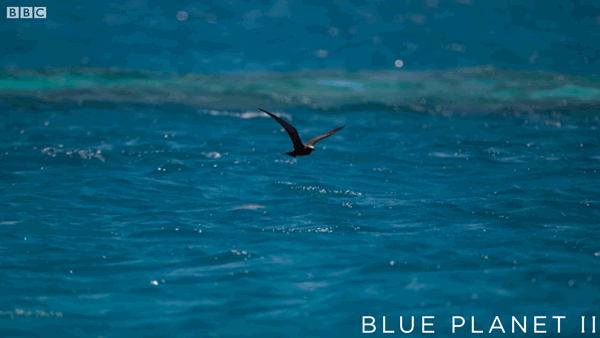 After 16 years of extremely patient waiting (apologies to the BBC for all the angry letters), Blue Planet finally returned to round off 2017 in the best possible way.  
And let's be honest, what's not to love? There's the truly awe-inspiring feats, David Attenborough's (a.k.a your dream Grandad) scene-stealing narration, and of course, the wonderful realisation that you're less adept at life than most fish.
5. Cher's Twitter continued to exist
Look, Cher's tweets are a form of postmodern poetry, devoid of editing, self-awareness or knowledge of when best to use Caps Lock, and the best bit? They're reaching 3.5million followers every day.
You're doing amazing sweetie. Please never change.
6. The distracted boyfriend meme
Starting life as a stock photo called 'Disloyal Man Walking With His Girlfriend and Looking Amazed at Another Seductive Girl', we feel confident in awarding the Official-with-a-capital-O 2017 Meme of the Year prize to this glorious effort.
Further proof that all memes are equal, but some memes are more equal than others, versions of this meme took the world (read: Twitter) by such a storm this year that it was Halloween's hottest costume, it spawned its own fan fiction, and the photographer who took the original photo is now a bloody millionaire.
7. Handcrafted Flavours went online!
Made from premium triple-distilled vodka, featuring all your favourite flavours, and guaranteed to get any party started, we've made 2017 the GREATEST year on record…
'Cause you can FINALLY buy our iconic Revolution Handcrafted Flavours online!
After literal decades of will-they won't-they on our party, we've opened our very own online store where you can buy all your favourite flavours.
So what are you waiting for? Go on, get a taste of awesome and finish this year with a bang.