So, you're thinking of throwing your very own BBQ?
That's cool. Yeah. Great. Just one thing…
U ok hun?
Unless this particular BBQ is happening in Barbados and not good ol' Blighty, you're guaranteed to have a really bad time. And here's why.
The BBQ won't light
Well, it will. But only after all your guests are already hungry and you've given your dad a quick call. He tells you to 'give it a little squirt' with something flammable. Cheers Dad. 
Half your guests will bring hot dog buns, the other half will bring crisps
Why do cheapskate friends happen to good people?
You will forget to buy ketchup
Actually, you did ask Terry to bring to ketchup, but he brought 18 packets of Prawn Cocktail crisps instead.
It will threaten to rain
Either there is an echo in this garden, or all 15 of your guests are saying 'it's getting a bit dark, you know'.
And inevitably, it will start to rain
Everyone will crowd indoors while you are left manning the BBQ trying not to look sad. The rain might stop, but there will never be enough seats for everyone
Even with the dining room chairs, the computer chair and an upturned beer crate, there will still be people sat on the now-sodden grass. And one of them is sure to be you.
Then somebody will definitely break a white plastic chair
It's basically impossible to have a BBQ without the destruction of white plastic chairs.
A neighbour will complain that the music's too loud
You know what, Martin from number 24? Shut it. You're interrupting Beyoncé.
But you can always just 'pretend you're not in'. 
A fail-safe option, 'til said neighbours ugly beachball of a head pops over the garden hedge. Your Spotify 'shuffle' is guaranteed to let you down
TFW your playlist jumps from Beyoncé 2017 to Pitbull 2010, and completely kills the precious vibe you worked so hard for. Oh, the shame. 
Someone will tell you to pop the oven on, 'just in case'
P*ss off, Paula. We're doing this right and that's the last we'll hear of it.   
You start to get into the swing of things. 
Hey, this BBQ sh*t ain't so hard. But then…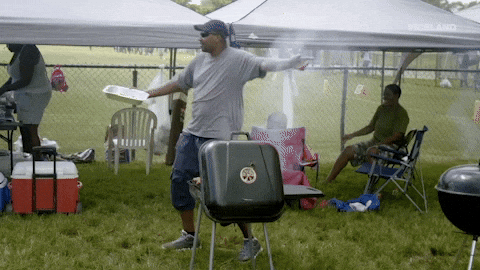 "Oh sorry, I forgot to mention I'm veggie"
"You're what now?" Right, you're just gonna have to ask – can vegetarians eat Prawn Cocktail crisps?
The meat will take approximately 4 hours to cook
It always looks so easy in B&Q adverts.
Then there's always one person who doesn't think the meat is cooked
Boring Brenda – who you didn't even want to invite – will bring her meat thermometer from home and add an extra hour to the cooking time.
Yet still, all the meat will be undercooked
Your Google search history will read something like 'can you go to prison for giving 15 people a mild case of Salmonella?'
Someone will get a bit too drunk
In fairness, they were hoping to line their stomach with burgers but so far all they've eaten is 3 packets of Prawn Cocktail crisps… Which they brought. Bloody Terry.
And of course, everyone will stay for FAR too long
Like a wedding, there is no such thing as a quick BBQ.
So, we get the impression you're regretting that 'Summer BBQ' Facebook event you sent out on a whim last week, right?
Look, get it cancelled and book a table with us instead.
With loads of heavenly bits and pieces in our glorious food menu – including all your BBQ favourites – it's time to put down the tongs, leave those under-cooked burgers behind and get your butt down to your nearest Revolution!