Imagine please, for a brief moment, being friends with Kanye West.
Obviously, not best friends. That'd be crazy. An esteemed member of your Whatsapp group, maybe. Or the guy from your uni halls who took the aux cable at every house party, sure. Basically, let's just say you'd invite him to your wedding, but he wouldn't be one of the groomsmen.
Right, now you've got that scenario in your head – do you have a quiet word with him about all these cringey moments? You know, do you take him to one side? Say something like, we love you man, but that time you [did something too cringey for words], that was, like, not cool, man.
Of course, you don't! This is Kanye West! You're lucky to have his number at all! You're already on two strikes! Three strikes and you're out chump! So just sit there! While we round up his cringiest moments! And work out which one was the worst! Amen!
THAT FAMOUS MODESTY AGAIN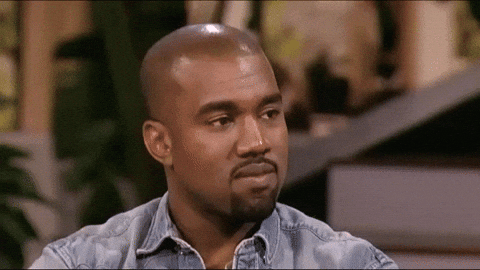 What happened? Basically, Kanye did an interview in 2009 in which he said he believed he was God's vessel and that he was chosen by God to be famous.
Okay, sure, yep. We can imagine that, but considering it's Kanye that's not really that ba- oh wait there's more, 'cause in the very same interview (in fact the very next line!), he said that the greatest pain in my life is that I will never be able to see myself perform live'.
Ah, there's the Kanye we all know. There he is. The greatest pain, he says? Hmmm. Someone has never stepped on a plug when they are just out of the shower. 
On a scale of 1 to CRINGE? See, if a man called Gareth from Middlesbrough who works in Aftersales had said this, it would definitely be pushing an 8 on our rudimentary cringe scale. But because it's Kanye, and this is just the way Kanye is, and we've come to know this is just the way Kanye is, and we truly know in our icy hearts that Kanye will never change the way he is, it doesn't give us the hot flush of a cringe like we expected.
So with all that considered, we're saying a 4.
THE ENTIRETY OF BOUND 2
What happened? Please direct your attention to the above video.
Did you marvel at the super realistic backgrounds? Were you uncomfortable at getting a pretty good insight into how North West was conceived? Did you get all teary-eyed about the purest expression of love you've ever seen?
Yes. Yes. And probably not.
On a scale of 1 to CRINGE? It's a bit like when you were 14 and in love with The One and you thought it would be a great idea to post pictures of the two of you kissing to MySpace. You remember that, right? The close-up? The sweeping fringe? 
Yeah. It's a bit like that. Only we're not sure Kanye will look back in ten years and think What The Hell Was I Doing With Them but who knows?
Btw this is a 6/10 on the cringe scale for Kim's hair alone.
WHEN THE SENSE OF HUMOUR WAS SEVERELY LACKING
What happened? At the TIME 100 gala, comedian Amy Schumer decided to pull a stunt and fall at the feet of Kimye on the red carpet…
Which got! Absolutely! No response! Not even a helping hand! Nothing! Kanye! Please! Smile maybe! 
On a scale of 1 to CRINGE? Look, it's not as bad as what's to come, but there's something just a lil' bit robotic about it.
STAND UP IF YOU LOVE KANYE LIKE KANYE LOVES KANYE
What happened? We really wish we could've just left this one to the annals of history, but it simply must be talked about.
At a concert in Australia, Kanye stopped the entire show to get every member of the audience on their feet to dance. Sounds great so far, right? Completely normal thing to do. Well done, Mr. West.
Only, the problem was, two members of the audience failed to stand on their feet – because they were disabled. Kanye didn't know this, and pressured the two people to stand, so much so that the crowd even started booing them, before at last the penny dropped. *AHHH runs away forever*
On a scale of 1 to CRINGE? It's a 10. It's such a 10. It's the most 10 that has ever 10'd before.
IMMA LET YOU FINISH
What happened? Come on. Please. Please. You know what happened. Even if you're one of those people who only uses social media to tweet rail companies when your train is 4-minutes late, you know what happened.
You remember the leather waistcoat. You remember Taylor's sad little country girl face. And more than anything, you remember that BEYONCÉ HAD ONE OF THE BEST VIDEOS OF ALL TIME!
On a scale of 1 to CRINGE? While we tip our cap to the pure bravery/arrogance/extremely high self-esteem that would lead Kanye to do it, we're not sure this even fits on our scale. It needs a new scale. It's a new level of cringe.
Which makes us wonder, was Kanye the original founder of cringe? Was there such a thing as cringe before 13th September 2009 at the MTV Awards? Is he a genius inventor after all? The inventor of cringe? We're not sure. We're not sure of anything anymore.
Look, despite all the cringe, the awkwardness, the lack of humour… We love Kanye, mostly 'cause he likes to TURN IT UP like no other.
And do you what else TURNS IT UP?
Our amazing new cocktail menu. We've remixed rhythm and blues with a whole lotta booze, thrown in delicious blends packed with big beats and kept those laid-back tropical vibes you just can't beat. And whatever you do, you NEED to try it. 
So book your table today, and get ready, for our loudest menu yet.