This is how we rolled in the '00s.
1. As soon as you were invited, you imagined it was going to be identical to the house parties in Skins, with ketchup on the walls, drugs all over the coffee table, and partial nudity everywhere.
It was literally nothing like this.
2. Instead, you turned up with two giant WKDs and felt like an absolute baller.
And despite your Dad saying "you're allowed to bring some back you know", you would finish both WKDs approximately 37-minutes after you arrived.
3. So you then proceeded to drink anything, literally anything, you could lay your hands on.
Glen's straight from the bottle. Three stolen shots of Apple Sourz. A swig of mouthwash that happened to have a May Contain Alcohol warning. It didn't matter what it was – as long as it helped keep your buzz.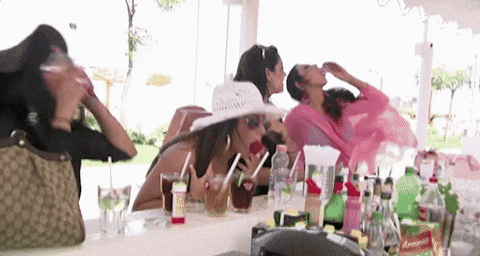 4. But there was always at least one weird guy who would think he was really sexy bringing a bottle of red wine he stole from his parents.
It was you, wasn't it?
5. If you were a boy, you were definitely wearing those three-buttoned Topman t-shirts.
Yep, you know the ones. They were two-toned, far too bright, and extremely effective at keeping your sexual honour intact.
6. And if you were a girl, you back-combed your hair so much it looked like a bird nest.
Every mirror pic with the gals would include you pouting, doing the rawr claw, and pushing your hair up with one hand for extra oomf. Every. Single. Time.
7. Speaking of pics, somebody with a Motorola Razr would spend the whole night snapping photos to upload to MySpace the next day.
And guess what! You still hate that person to this day! They captured your terrible hair! Or your paper-thin eyebrows! Or your lack of chin! And then put it on the internet! Without a filter! Where it remains! Forever!
8. The playlist would be banger after banger.
Ready for a throwback?
9. But you could never actually hear the music you were dancing to, because nobody ever owned loud enough speakers.
You'd try your best, but it was pretty hard getting down to Temperature when the sound was coming from a Blackberry on the other side of the room.
10. And the lack of noise made it painfully obvious when Stacey was crying in the other room.
Yes, it was always a Stacey. Yes, she was always crying over a Josh who had the audacity to stand near an Abbie. And yes, this would always last all night and take place inside the only bathroom in the house.
11. Which meant the back garden became full of boys (and some girls) peeing in every corner.
Eventually, all the boys would go home. But that slightly warm, acidic smell that hangs over everything within a 50-yard radius of the garden? That would stay forever.
12. And like everybody else, you would probably have your first kiss in that urine-filled garden.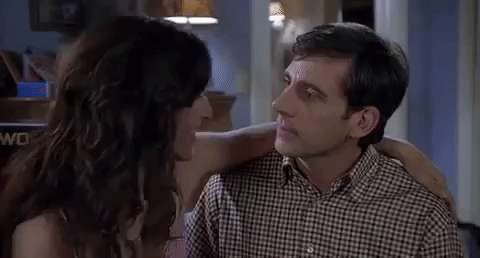 You forgot to close your eyes! You bumped teeth! You didn't know that you were supposed to move your tongue! But they tasted of Fanta Fruit Twist! So you were in love! Then you saw them kissing somebody else not soon after! And that's when you realised! Love is a lie!
13. Then you'd be distracted by that one guy who got absolutely paralytic.
THEY'RE THE WRONG HALF OF HALF-NAKED, IN THE GARDEN, HOLDING AN EMPTY BOTTLE OF WKD, TRYING TO PLAY IT COOL AND STILL HOLD NORMAL CONVERSATION, BUT LIKE ALL VERY VERY DRUNK PEOPLE, THEY'RE SHOUTING EVERY SINGLE WORD, LIKE THIS, AND AFTER A WHILE, IT'S ACTUALLY REALLY ANNOYING ISN'T IT?
14. And of course, they vomited absolutely everywhere.
Which happened to be the exact moment you learned that blue WKD isn't just blue on the way in.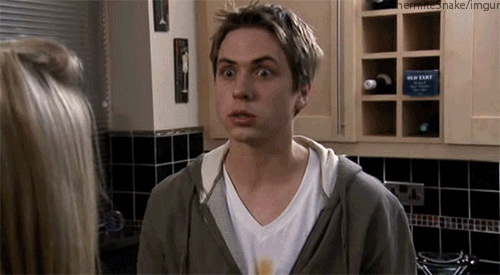 15. And then the neighbours turned up and made the whole thing 10x worse.
Before you know really what's happening, that same drunk guy is stood at the front door, daring the neighbour to go on, call the police, and you're pulling him away and offering the neighbour the £1.25 in your pocket to forget about the whole thing.
16. Somebody (most probably the paralytic guy) would fall asleep on the couch. Like an idiot.
Cue your first experience of playing Buckaroo, 'cause nothing finishes off the night like carefully placing a decorative lamp on the face of a passed-out teenager who very desperately needs their Mummy.
17. Obviously, a random cone would appear.
For some reason, stealing a cone, putting it on your head, and doing a bit of a dance was literally the funniest thing anybody could do in the 2000s. It was a simpler time.
18. And then, unable to share said cone, two lads would start a fight, kind of.
Right, imagine what a fight between two particularly weedy meerkats would look like. Yes? You've got meerkats in your head? Facing one another? Both stood up? Trying to grab the other with their tiny arms? Just, lots and lots of grabbing? Yes? You got it? Well, that's basically the definition of every single house party fight.
19. But in the melee, there would be the unmistakable sound of something expensive being smashed.
And suddenly the fight stops, the music stops, everybody stops, because the host of the party, painfully sober by the way, is on their knees, holding the smashed pieces in their hand, muttering something about John Lewis, crying, really crying, that kind of cry where you can't catch your breath, too young to comprehend that these things are covered on most domestic insurance plans, but completely killing the mood regardless, so people are slowly slipping out the house, leaving the scene, and rumour has it the host is still in that spot to this day.
20. So you'd probably make it home by about 11PM and have to maintain an illusion of sobriety in front of your still-awake-on-the-living-room-sofa-definitely-waiting-for-you-to-get-home parents.
AVOID EYE CONTACT AND RUN STRAIGHT UP THE STAIRS.
They were the best of times. They were the worst of times.
Well, we can't give you back the innocence of youth, but we can give you an awesome time.
Go on, join us in bar, and get a taste of awesome.