The spookiest time of the year is finally here — which means it's time to get your monster mash on! Whether you're staying in or venturing out this Halloween, we've got you with a Revs approved playlist.  No offense to all you John Legend fans but 'All of Me' is just NOT going to vibe with your bloody clown costume. Sorry. So, pour yourself a bev, close your eyes and pretend it's 2019.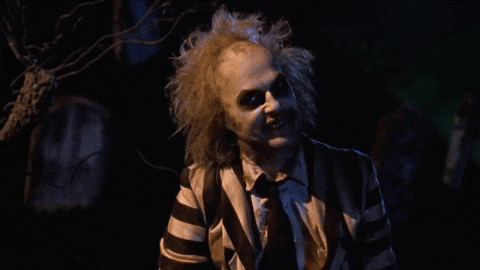 Need your Revs fix?
We've been wearing our masks for a while now and nothing has quite spooked us like this year but you still have plenty of options to get you in the All Hallow's Eve mood. We're hosting our Halloween Brunch which, as a treat, we're including our Rockstar Martini as an option for your bottomless drinks. Let us serve you delicious brunch grub and some of your favourite cocktails. Staying in and ignoring trick or treaters? We have a drinks take away menu where you can grab beers, wines, cocktail kits to make a Pornstar or Espresso Martini at home. Why not get a bottle of our famous flavour to take home? (Try the fiery chilli for an extra fright!) download our app to check these out.
So you're set for your afternoon brunch, you've got your predrinks for after, what next? Well, we all know that 10pm is the new 2am so we're not stopping the Halloween spirits (literally) this year. Join us from your own home at 10pm for our Halloween Live DJ Set and be in for chance to bag some spoooky prizes. (aka. lots of Rev's goodies!)
No matter where you're spending Halloween this year, we got you with our scare-tastic selections for creepy tunes to get the party started. 
Your top 25 Spooktacular songs:
'Time Warp' – Little Nell, Patricia Quinn & Richard O'Brien
Classic..
3. Out of My Mind – B.o.B feat. Nicki Minaj
4. 'Thriller' — Michael Jackson 
5. 'I Put a Spell On You' — Bette Midler 
6.  'Turn Off the Light'- Kim Petras feat. Elvira, Mistress of the Dark 
7. 'Monster Mash' — Bobby (Boris) Pickett 
8. "Bury a Friend" — Billie Eilish 
10. 'Ghostbusters' — Ray Parker Jr. 
11. 'The Addams Family' Theme — Vic Mizzy 
12. 'Everyday Is Halloween' – Ministry 
13. 'Wolves' — Selena Gomez & Marshmello 
14. 'I'm in Love with a Monster' — Fifth Harmony
15. 'Zombie' — The Cranberries 
16. 'Monster' — Lady Gaga 
17. 'Distrubia' – Rihanna
19. 'Monster Mash' – Smashing Pumpkins
20. 'Killer Queen' – Queen
21. Living Dead Girl – Rob Zombie
22. 'Feed my Frankenstein' – Alice Cooper
23. 'Monster' – Kanye West
24. 'Enter Sandman' – Metallica 
Andddd if you can't arsed putting together your own playlist, here's one already made up for you. https://open.spotify.com/playlist/37i9dQZF1DXarlH9zHuV0v  
You're welcome – Happy Halloween!