Without a doubt, Christmas is a time of pure, shameless indulgence. The way we stuff ourselves with an outrageous amount of food is almost disgusting, but the truth is , that's exactly why it's so beautiful.
But as beautiful as it is, sometimes it's hard to stomach the indulgence. Especially when you've finished a massive bowl of Christmas pudding and your casually alcoholic auntie cracks out the Baileys.
An internal struggle ensues – you want to get drunk, but Bailey's is just a bit too much right now.
Don't worry – as usual, we've got your back. Try our fruity Grynch cocktail – it's the refreshing alternative way to get your merry on. It may be as green as the Grinch, but it definitely won't get you grumpy.
Equipment
Hurricane glass
Blender
Ingredients
37.5ml Absolut Beri Acai
12.5ml Midori
12.5ml Blue Curaçao
25ml Coco Real
12.5ml lime juice
50ml apple juice
Garnish
2 x cherries & a mint sprig
Method
First things first, add all of your ingredients apart from ice into the blender. Next, fill up the hurricane glass with ice and empty it into the blender, with the rest of the ingredients. Now switch on your blender and pulse until it goes smooth. Pour the blend into your hurricane glass and you're good to go! Just make sure you garnish it with a mint sprig and two cherries for those extra Christmas feels.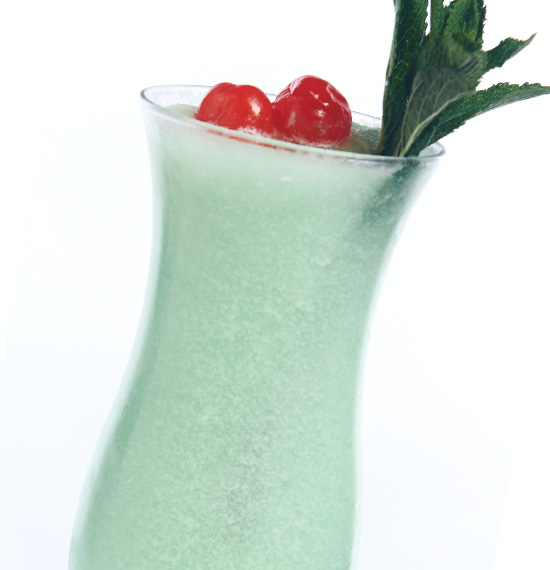 Now you can take a break from the shameful indulgence and STILL get tipsy in Christmas party style – aren't we just awesome to you guys sometimes? Enjoy.
Fancy yourself as a bit of a cocktail master? Well, unless you've been to one of our cocktail masterclasses, you can think again. We're the undisputed maestros of mixology, and we've got the secrets to make you a master.
Or, if you fancy getting in a little bit more practice at home, why not try out one of our other cocktail recipes? Because there are so many ways to get merry this Christmas, you may as well try them all.
Cocktail Recipes: How to make a Whisky Sour
Cocktail Recipes: How To Make A Poppin' Espresso Martini
Cocktail Recipes: How to make a Pornstar Martini