Ah, Christmas – that precious time of year when you put life on hold just to spend quality time with your family and friends, sharing cups of mulled wine as you exchange gifts, creating beautiful memories that will last forever.
It just goes to show that the true meaning of Christmas lies in two simple, precious things – alcohol and presents! (Okay, we suppose family and friends are pretty cool too).
Speaking of alcohol and presents, here's a gift from us to you of one of our favourite Christmas cocktail recipes.
Presenting to you, the Tingle Bells. Enjoy.
Glass
15oz
Ingredients
50ml Absolut Cherrys
12.5ml Licor 43
25ml cranberry juice
12.5ml strawberry puree
Top with Ting grapefruit soda (1/3 of a can)
Garnish
Striped straw & mint speared raspberry
Method
Grab your 15oz glass and fill it with cubed ice. Add the Absolut Cherrys and Licor 43. Then, throw in the strawberry and cranberry juice, and give the whole thing a shake (don't be gentle!). Now add the Ting, but make sure there's enough room left for crushed ice. Put the ice in, and finally add the mint speared raspberry and the striped straw.
Enjoy!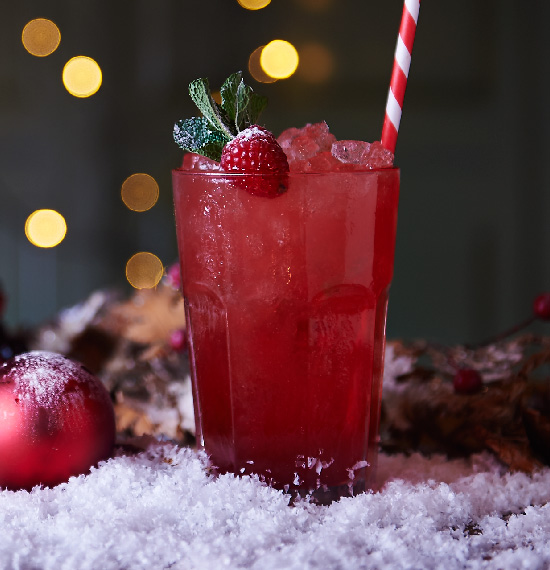 It's basically a Christmas party in a glass. Drink up and get cheery. We'd recommend doing so with family and friends, but hey, we're not here to judge.
If you really fancy upping your mixology game, we'd recommend booking into one of our cocktail masterclasses. We're kind of really good at making awesome cocktails, so it's a no-brainer really.
If you're too intimidated by our cocktail artistry to come to a masterclass (we don't blame you, we're awesome), why not do a bit more practising at home with one of our other cocktail recipes? Check them out:
Cocktail recipes: How to make a Negroni 
Cocktail recipes: How to make a Whiskey Sour 
Cocktail recipes: How to make a Bellini